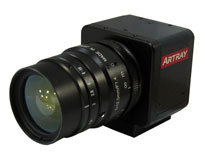 Artray Camera
Ultra Compact Camera with varies interface , HDMI , USB2.0 , USB3.0 . Artray camera combined sensor that provide for VGA to 29 MP
Artray Thermo Camera
Thermo Camera is equipped with USB2.0/Ethernet interface that transfers 14 bit high speed raw data collected by microbolometer directly.
Artray InGaAs NIR Camera
InGaAs Camera is high Sensitivity in 900-1700nm NIR range. Easy to process original images as RAW data are extracted Gain
Artray UV Camera
The UV-WOM is camera that equipped sensitivity of UV. it easily reflects blur, stain and scratch on the surface of objects.
Artray NIR Application
Artray NIR Application
Artray NIR Application
Artray Thermo Camera
Artray Thermo Camera
Artray Thermo Camera
Artray Thermo Camera
Artray Thermo Camera